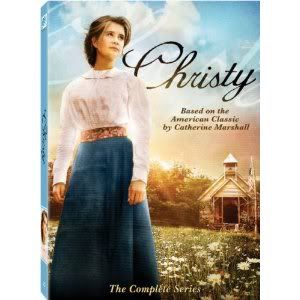 Someone once told me that I remind them of the character of Christy on the Christy series. I borrowed the whole complete series (over 10 hours, I think) and watched the first episode last night. I think they are right. I'm a lot like her, on the inside. If my outside matched how I feel on the inside, I'd look a lot like her.
I've done a lot more exercising this week than I normally do. I admit that I was a bit frustrated to see this morning that I was up 4 tenths of a pound compared to yesterday morning, considering that I walked 4 miles yesterday, consumed over 100 oz of water and was several hundred calories below my limit. (I weigh daily) My nutritionist would tell me that it was a combo of: having too much salt (I had hamburger helper---which my nutritionist does NOT approve of!) and not eating enough calories (as weird as it sounds, she has a range for me to eat in and she says that if I eat below that range, my body will hold on to the weight...and it makes very little sense to me...but it has proven to be true with me.) So yeah, I'm not going to tell these things to my nutritionist (who happens to be a friend and took me on for FREE...isn't that awesome???!!!)
But I AM going to tell her that my official weight loss for the week is >>>>>> 3.3 pounds. yes! I'll take it. I was 300.7 today. I'm ready to be back under 300 again.
The next TOPS fun day is November 12th and I would love to be 289 or less then. :) Consistency is the key for me! The nutritionist thing will help with that because she requires me to text her my totals each night. Be watching my blog..... I'm doing it this time :)
Thanks for reading. Have a healthy day!